Welcome to Sof-Tech Maintenance Company
Small & Medium Business Solutions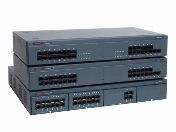 Avaya IP Office
With Avaya IP Office, your small to midsized business has affordable, flexible and powerful choices for business communications. Select the features that are right for you today and add new capabilities as your business grows and faces new challenges. Regardless of the IP Office Edition you choose, you'll be backed by Avaya and its 100+ year technology heritage of delivering communications solutions that matter to small and midsized businesses.
Turn-Key (Appliance) Editions
IP Office Basic Edition- Ideal for small and growing businesses, Basic Edition provides basic voice telephony and messaging, including voice mail, message to email conversion, call forwarding, audio conferencing, automated attendant and growth to 100 users.
IP Office Essential Edition - Builds on the Basic Edition by adding IP telephony and mobility features, including one-number access and dial by name / extension. Scales to over 350 users.
IP Office Preferred Edition - All the features of Basic and Essential Editions with integrated unified communications, including IM and presence, web collaboration, mobile access, video, and call recording. Integration with business applications along with a multi-channel contact center is also provided.
Software-Based Server Editions
IP Office Server Edition - Supporting up to 2,000 users and 32 locations in a single network, IP Office Server editions adds advanced features like Active Directory integration and centralized web-based administration.
IP Office Select - With support for the largest IP Office customers with up to 3,000 users and 150 networked locations, IP Office Select offers resiliency through a duplex server option and over 500 ports for audio and video conferencing.
IP Telephony & TDM Systems
Features:
Converged Conferencing
Unified Messaging
Unified Communications
TeleWorking
Communication Manager
Contact Center
Avaya Aura is a breakthrough in business communications — a unified communications platform that enables on-demand collaboration and customer service — faster, with less complexity, and at lower cost — anywhere in the world. Avaya Aura brings together award-winning Avaya real-time communications performance and reliability with a revolutionary, enterprise-wide SIP architecture, plus the instant detection of each user's presence across devices and applications.
Communications applications and services are implemented once and made available across the business. Simpler deployment and streamlined provisioning, plus leaner hardware and enterprise-wide dial plans, all drive down costs and complexity. And Avaya Aura is easy to acquire with three pre-packaged software editions, each one based on simple, per user licensing.
Avaya Aura redefines and simplifies existing voice and video communications architectures — including multi-vendor networks — delivering a new value equation in business communications: more capabilities with less cost and complexity.
A milestone for Avaya and business communications broadly, Avaya Aura goes beyond existing telephony and data communications networks and introduces a platform that unifies all forms of communication (voice, messaging, e-mail, voice mail, and more), without sacrificing any of the resiliency, security and performance that Avaya communications systems have always been known for.

CallXpress Unified Communications
The phone remains the backbone of internal, B2C and B2B communications. Even in the age of text messages, video chats and email, organizations can't afford to miss important phone calls and voice messages. Customers have come to expect fast responses and a modern, intuitive user experience. Organizations need a way to mobilize and modernize voice communications with interoperable solutions to avoid an expensive "rip and replace."
OpenText™ CX-E Voice brings next-generation voice applications to any communications environment, including unified messaging, transcription, personal assistant, call center, speech-enabled directory and automated attendant, secure voicemail, IVR, outbound call and text campaigns. A highly modular solution, CX-E is a designed so organizations purchase only the applications that they need.
It doesn't matter if IT departments have deployed Avaya, Cisco, Google, Microsoft, Mitel, NEC, RingCentral or other vendors' solutions, or whether they're on-premises, cloud or hybrid. CX-E's industry-leading UC interoperability allows IT departments to dramatically expand what their systems can do without the massive cost of ripping and replacing existing PBX and email infrastructure.
Why Sof-Tech Is A Step Above The Rest
We have worked with SofTech for more than a decade and they have helped us manage our complex, on-prem Avaya phone systems across multiple properties to serve both staff and guests…Read More
Andy Collins, IT Director, YMCA of the Rockies
I wanted to take a minute to tell you how pleased we are with the ongoing support and service YMCA of the Rockies received from Sof-Tech Maintenance Company. I never have to worry about issues regardi…Read More
Gordon Ulrickson - YMCA of the Rockies
Sof-Tech has been providing us exceptional sales, service and support for tour telephony needs for many years now. We look forward to many more years of Sof-Tech being a valued partner with the City…Read More
Bill Westbrook - City Of Loveland